Get A #NoFilter Look With These Aesthetic Treatments!
February 16, 2021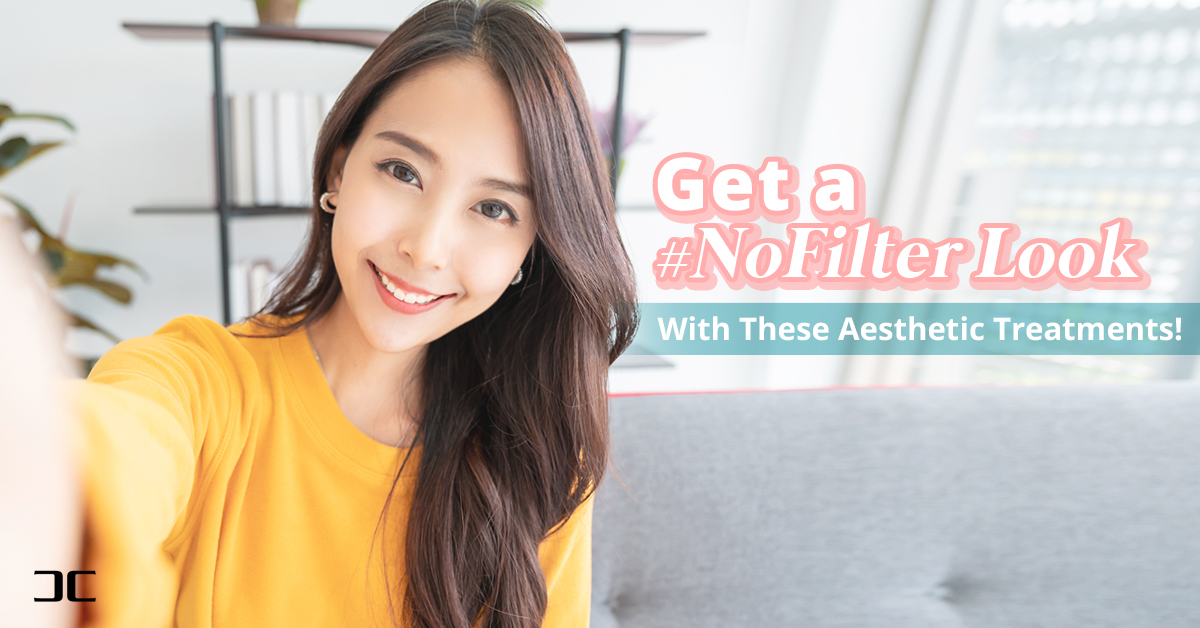 Selfies to project your zest for life are great provided the main subject looks gorgeous and complements the great background behind. Alas, nature and the passage of time may be less supportive of your desired great looks. Artful make-up, low lighting, low-rez photos, and beauty apps may help conceal your facial flaws and enhance your look. But what if, the root causes can be addressed and cover-ups are no longer needed for that selfie to look awesome. And yes, advancement in aesthetic procedures over the recent years has made removal of facial blemishes, tell-tale age signs, and the non-surgical enhancement of facial features eminently possible.
Here at DermClear, our Medical Director Dr. Chin Yee Choong, a veteran in the Aesthetic Practice field, performs proven, safe, and minimally invasive aesthetic procedures to erase skin imperfections and to enhance your desirable facial features. As a result, you will look great and confident at all times, without resorting to thick cover-up or to your phone's photo-editing beauty apps. Dr. Chin's forte in aesthetic consultations and treatment lies in his skillful and artful approach to the face in its entirety. He carefully considers the interplay of all components, even when enhancing just a single treatment area. Today, we spotlight 4 facial areas that are major game-changers when it comes to adding more definition, dimension, and symmetry to your face. With these treatments, you are certain to look jaw-dropping attractive at any angle and at any time of the day.
1. Mid-face Volumising
"harmonious heart-shaped or oval face with youthful volume and defined contours"
A coveted feature in Asian facial aesthetics is a heart-shaped or pleasantly oval face that projects a defined cheek-to-chin line from the front view. To help you address age-related hollowing of the cheeks and allow you to regain lifted well-defined cheekbones, Dr. Chin combines the transformative powers of these three non-surgical contouring aesthetic procedures. These are minimally invasive treatments that can be completed during your lunchtime and offer you life-changing and confidence-boosting results with little or no appreciable downtime.
a) Botox
A versatile and unrivaled procedure, Botox not only gets rid of wrinkles and frown lines but in addition, also helps slim and contour the face. When administered expertly to prominent jaw muscles (masseters) by Dr. Chin, you will experience a gradual transformation to a V-shaped lower face over the next few months. With the use of appropriate dosages, dilutions, and by injecting at critical sites, Dr. Chin is able to give you sustained results long after the actual nerve-blocking effects of Botox have subsided.
b) Dermal Fillers
In a class of their own, dermal fillers are the best non-surgical procedure that creates a lifted and plump look. Here, at DermClear, using the latest formulations of cross-linked Hyaluronic Acid (HA), Dr. Chin is able to help you replenish areas of volume loss and revive the support of the critical mid-cheek area. If needed, the concomitant use of softer fillers enhances the skin's moisturising capabilities and makes your surface skin look hydrated, refreshed, and wrinkle-less. The beauty of dermal fillers is that their effects are immediately appreciated by you and the people around you. The deeper-placed fillers may also last up to 18 months and repeat fillers are safe and additive in effects.
c) Threadlifts
Dr. Chin is among the few Aesthetic Practitioners in Singapore who have performed numerous threadlifts over the past 10 years and who has mastered this skill-dependent treatment. DermClear uses high-quality threads to achieve an immediately visible "lift" and also tighten the skin. Made with 100% bio-absorbable fine microfilament Polydioxanone (PDO) threads, they get dissolved completely and leave no trace behind except a nice lifted mid-face profile. More amazingly, their effects may last for extended periods of up to 18 months.
2. Projected Jaw Line
"immaculate confident and forward-looking appearance"
Reducing or sharpening a jawline can truly bring about a whole new look as a well-defined jawline is the hallmark of an attractive and confident face. Both men and women can benefit from a contoured jawline that helps frame the face. Guys may want a strong, chiseled jawline that projects masculinity and authority. Gals may want a delicate, yet defined jaw area characterised by pleasant curves that project genteel sophistication. Dr. Chin understands the nuances of the different gender-preferred jawlines and uses the following treatments to create the look you want and the image that you wish to project.
a) Threadlifts
An uplifting treatment, both physically and spiritually, threadlifts help tighten the delicate tissues of the lower face and are placed under the skin to achieve visible lift to the skin, redefine facial contours, and enable a well-defined jawline to emerge. When the threads themselves dissolve over the next few weeks leaving no trace, the collagen they stimulate persists and continues to give benefits that are visible and natural.
b) Fillers
When placed strategically by an experienced injector who has a thorough understanding of facial balancing and harmony, fillers can help bring out the best version of you, boosting confidence and helping you achieve the sculpted jawline of your dreams. When placed along the jawline, it helps increase volume, strengthen the jawline, soften jowls, and give a stronger more defined jawline.
c) Ultherapy/HIFU
Cleared and certified by the FDA as the only non-invasive face-lifting procedure, this state-of-the-art treatment using high-intensity focused ultrasound energy (HIFU), goes deeper to stimulate the production of the body's collagen and elastin for natural-looking results. Ultherapy helps regain contour and correct a weak jawline by skin-tightening, lifting, and smoothening. Relatively pain-free, with minimal downtime, the treatment offers natural-looking, progressive lasting results of more than a year.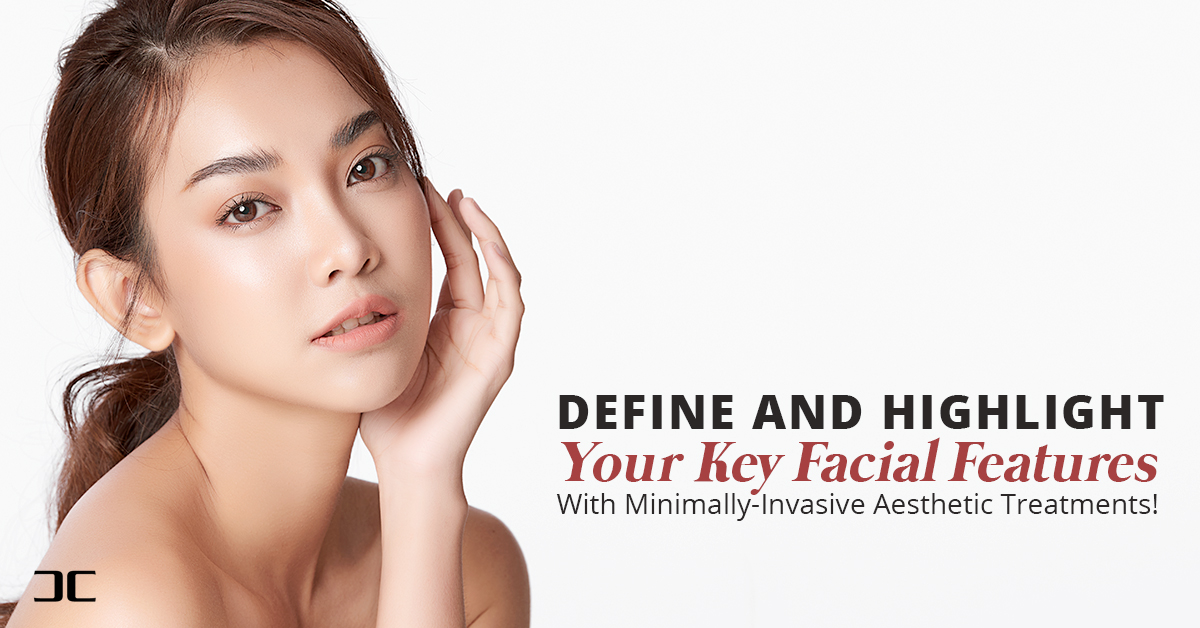 3. Well-Defined Chin
"chin projection that conveys your strength in character and personality"
A well-proportioned and defined chin is critical to bring about symmetry and balance to the facial structures around it such as the nose, neck, and cheeks. A good-looking chin is a key component to complement your features and harmonise your appearance. Combined with a great jawline, they make a big impact on your profile — and will up your selfie game. If nature gave you a "weak chin", perhaps turn to the skills of Dr. Chin to administer these two aesthetic treatments to address your concerns.
a) Fillers
Thanks to new generation fillers, you now no longer have to go through painful and intrusive surgery to achieve your ideal chin shape. When the right amount and the correct fillers are injected in key areas meticulously, they help increase chin volume and contour chin shape. This helps improve chin definition and makes the entire face more attractive. With minimal downtime and immediately visible benefits, fillers deliver the kind of results that bring a smile to your face and a chin-up to your encounters with friends and colleagues.
b) Threadlifts
The advent of threadlifts was hailed as revolutionary as it employed precision stimulation of collagen and produces a lift in the skin without the need for facelift surgery. The greatly reduced downtime compared with surgery, and its minimal risk of scarring, bruising or bleeding makes this procedure a great option to achieve that perfectly contoured chin. With extensive experience in threadlifts, Dr. Chin possesses the necessary knowledge and skills to achieve impeccable treatment outcomes.
4. Nose Tip Lift
"strengthen the central profile and lengthen the appearance of the nose"
The nose tip is centrally located and is the focal point of the entire face. It tends to draw excessive attention than any other facial features. This is because it impacts the overall facial balance and symmetry the greatest. The Asian nose generally has a wider (bulbous) nose tip and a shorter and flatter nose bridge. These inherent structural features tend to make the eyes look wide apart and the face broad. Some may find this less than ideal. A challenging location for any aesthetic procedure to be done due to the nose's ability to magnify beauty as well as defects, the skills of the practitioner are paramount in achieving the best outcomes. Aesthetic treatment that offers a non-invasive "nose job without going under the knife" is:
a) Threadlifts
Offering subtle results and a much safer alternative to nose surgery, threadlifts effectively improve the height proportions of the nose, provide a natural lift, and give you a "sharper" nose post-treatment. The special fine microfilament Polydioxanone (PDO) absorbable threads used not only disappear after a while but also do not spread to the sides or broaden the nose further eliminating the risk of "Avatar Nose". Threadlifts for this area requires consummate skills of the practitioner which you can be assured of in hands of Dr. Chin. Effects are immediately noticeable and may last up to 1-2 years.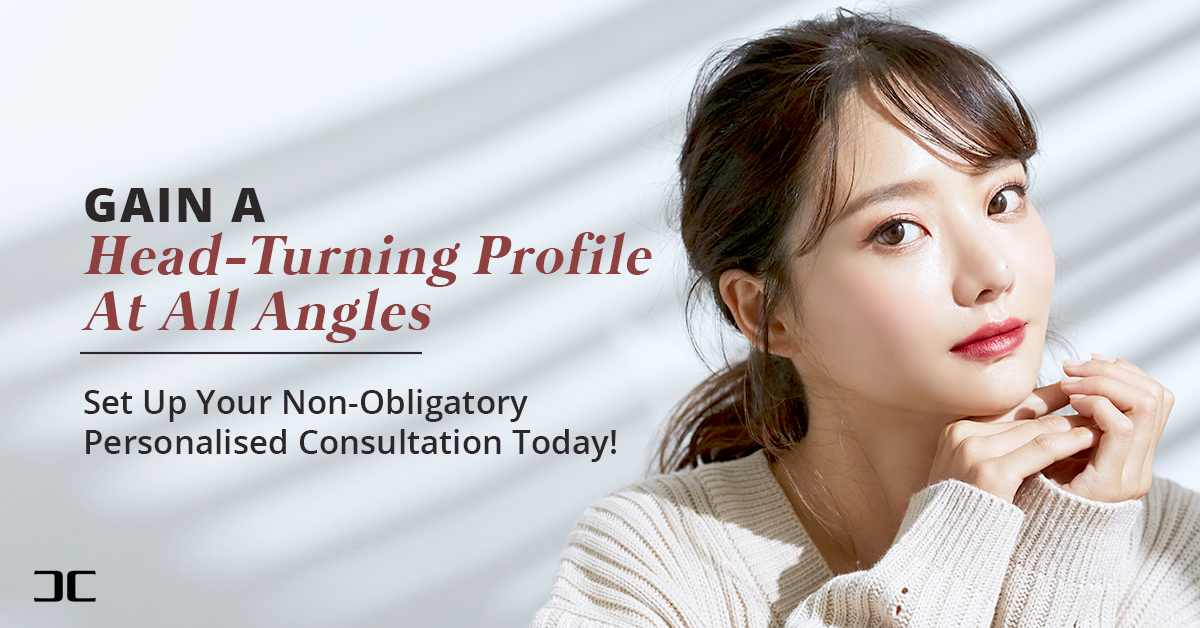 With 30 years of high-patient satisfaction index and an unblemished record, DermClear's Medical Director Dr. Chin Yee Choong brings to you his intricate appreciation of Asian facial features, the precise science behind medical aesthetics, and his consummate skills from experience to help create natural facial features that bring balance and symmetry to areas lacking in them. Supported by his dedicated team of highly-trained staff, Dr. Chin will provide you with a thorough consultation and evaluation to understand your needs and suggest treatment options to address them. The time to look great naturally without relying on heavy make-up and photo-editing beauty apps has come. We invite you to call us at 6356 5005 or WhatsApp call/message us at 9366 8855 to set up your completely non-obligatory personalised consultation today.