Tighten & Smoothen Two Highly Visible Areas That Instantly Reveal Your Age!
June 29, 2021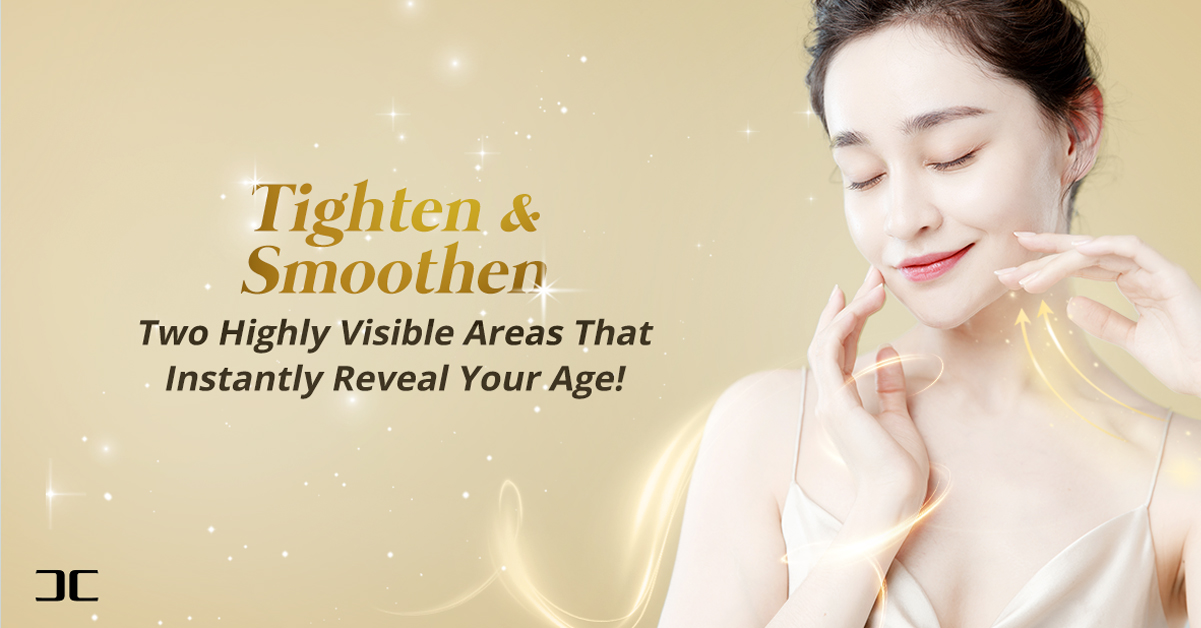 When it comes to anti-ageing, procedures designed for your face to achieve smooth and supple skin that's reminiscent of youth and does the perfect job of concealing the marks of the passage of time have now become a norm. But alas, if only that was enough to boost a youthful look. Often neglected in a person's rejuvenation regime, the highly visible and looked-over areas such as your hands and neck are quick to reveal your age instantly and show the ravages of time. Always exposed to the elements, sun-damaged, wrinkled, and veiny hands can even make you look older than you really are whereas the neck skin which is about as delicate as the skin on your eyelids is more prone to sagging and wrinkling giving an impression of 'Turkey/Crepey Neck'. And contrary to common beliefs, doing away with tell-tale signs of ageing on these two passed-over areas requires a much more sophisticated and effective approach than just solely relying on luxurious-sounding creams or oils. But, don't give up just yet, today, we are featuring a range of highly effective non-invasive hands and neck aesthetic treatments available at DermClear that can help your hands and neck look and feel smoother and younger-looking without going under the knife.
Administered safely and skilfully by our Medical Director, Dr. Chin Yee Choong, a seasoned practitioner in the Aesthetic Practice field, these proven and minimal downtime requiring procedures erase age-revealing signs making you look years younger and reviving your vision of youthfulness with radiance in a uniform manner.
1. Skin Boosters
"boost your confidence with a radiant and wrinkle-free skin"
Skin boosters not only help boost your confidence but also achieve a lustrous glow by providing radiant and youthful skin. Skin boosters involve injections of medical-grade Hyaluronic Acid and/or cellular growth stimulators into the upper skin layer to help plump up the skin, boost cellular regeneration, brighten, repair, and improve skin hydration from within. Administered skilfully by our medical director Dr. Chin, causing minimal discomfort and bruising they tackle the plunging necklines and appearance of thin skin on the back of the hands by minimising the appearance of fine lines. Requiring only 30 minutes, you'll easily notice softer, dewy, and more supple skin immediately – instant gratification that is guilt-free and downtime-free.
2. Profhilo
"regain supple, hydrated skin with a restored glow"
Nicknamed the "time-reverser", this injectable moisturiser not only hydrates and targets the sagging crepey skin on your neck and on the back of the hands but also work wonders as it specialises in tackling skin laxity while also stimulating collagen, elastin, and adding volume to even out fine lines and wrinkles. What's more, this next-generation anti-ageing treatment has one of the highest concentrations of Hyaluronic Acid (HA) and uses not one but two types of HA that help kickstart stimulation of four different types of collagen and elastin. With zero downtime and effects that last up to a year, Profhilo transforms your hands and neck in a manner that can only be described as truly impressive.
3. Ultherapy/HIFU
"power of ultrasound to lift and tighten loose skin"
Ultherapy is the only non-invasive treatment cleared by the FDA for lifting the skin on the neck and when performed expertly by Dr. Chin it also helps tighten the loose skin on the back of your hands as well. Using highly focused ultrasound technology (HIFU), the treatment counteracts the effects of time and gravity by stimulating new growth of collagen in the deeper layers of the skin and tightening the skin's foundation without causing any damage to the outer layer. What's even more impressive is that Ultrasound has been used safely throughout the medical field for more than 50 years and Ultherapy has been established as safe and effective in numerous clinical studies and in over a million treatments worldwide. Giving maximum beneficial results that last up to 12 to 18 months in a mere 30 minutes, it helps achieve lifted and toned skin that looks younger than ever.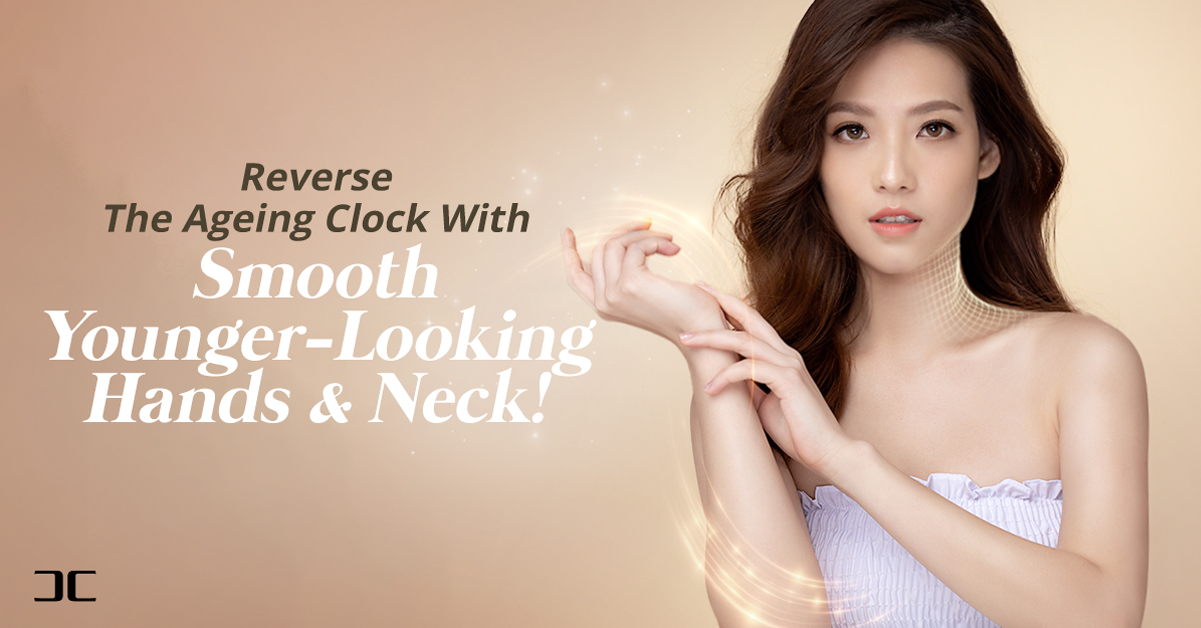 4. Light-Based Treatment
"light the way to radiant-looking blemish-free youthful skin"
Light-based Energy Devices employ powerful light energy to target and address a multitude of skin problems on both your hands and neck such as pigmentation like age spots, sunspots, sluggish skin, uneven texture, and pruney appearance. In the hands of a masterful practitioner, these non-invasive specialised devices can tighten up the skin without leaving any scars and producing remarkable results. Dr. Chin is able to select the most appropriate device, wavelength, and energy setting to stimulate the production of collagen and elastin, diminish wrinkles, and also break down the melanin in those dark splotches that make you self-conscious. With a resurfaced skin, now see your neck and hands in a new light, and glow in the newfound confidence.
5. Threadlift
"lift, tighten and redefine your neck"
This revolutionary restorative treatment works wonders on the neck by tackling skin laxity, decreasing the appearance of neck folds, crinkly skin, wrinkles, and providing a more youthful and plumper appearance. Dr. Chin is among the few Aesthetic Practitioners in Singapore who has performed numerous threadlifts over the past 10 years and has mastered this skill-dependent treatment. DermClear employs high-quality threads made with 100% bio-absorbable fine microfilament Polydioxanone (PDO), that get dissolved completely leaving no trace behind. The greatly reduced downtime compared with surgery, and its minimal risk of scarring, bruising, or bleeding makes this procedure a great option to achieve a more radiant neck. A truly uplifting treatment, both physically and spiritually, its effects can last for extended periods of up to 18 months.
6. Fillers
"lift your spirits and hands' appearance with added volume"
The days of trying to hide your hands and being insecure about how they look are now over. When administered expertly at strategic points by an experienced injector who has a thorough understanding of hand area anatomy, a treatment as effective and celebrated as Fillers creates a big impact. Here at DermClear, Dr. Chin is able to achieve a rejuvenating effect by replenishing volume loss in the back of the hands by reducing the appearance of prominent veins and tendons (veiny hands), improving lines and wrinkles on the skin surface, and overall making the hands smoother, plumper, hydrated and younger-looking. A relatively quick procedure that requires only 30 minutes, this safe, non-invasive treatment offers immediately noticeable results that may last for 6 months to a year. So, skip lunch, gain silky-soft hands and literally turn back the hands of time.
7. DC Reneu Peel
"get the mega-watt glow by peeling away surface dullness"
Since you practically use your hands constantly, they've had it rough over the years after being exposed to sun damage. Moreover, due to the appearance of discoloration, age spots, and uneven skin texture as a result of ageing, your hands have the uncanny ability to make you appear older than you are. But, fortunately, the advanced DC Reneu Peel helps peel away the superficial dark spots, even out skin tone, lighten superficial pigmentation and give your hands a renewed look in as soon as 1 week. With a careful selection of skin-boosting acids, Dr. Chin's skillful application of the peel creates a safe amount of exfoliation that removes the top layer of skin allowing new cells to regenerate easily. Taking a mere 30 minutes to perform, the effects of expertly performed DC Reneu Peel helps correct a myriad of conditions giving your hands that megawatt glow that leaves you beaming.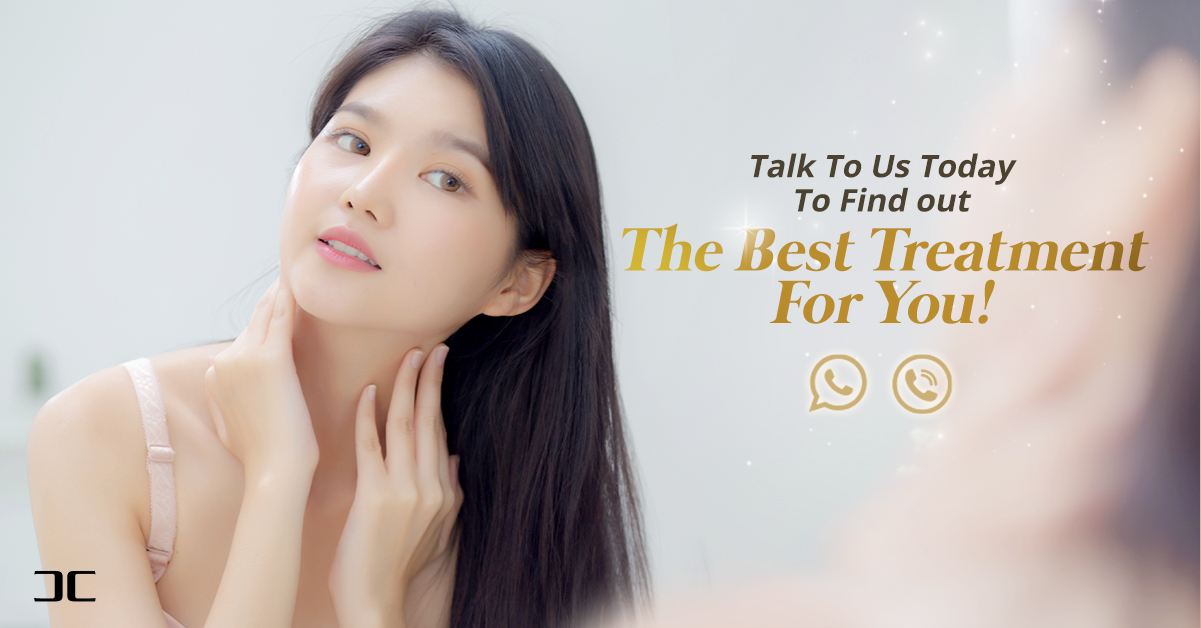 With an unmatched record of achieving exemplary treatment outcomes for 30 years, DermClear's Medical Director Dr. Chin Yee Choong possesses in-depth know-how and understanding of the neck area and the hand's anatomy and how different specialised Aesthetic Treatments can deliver the best results according to the patient's needs. Supported by a highly-trained and professional staff, your desire to boast glowing, awe-inspiring skin is here. We invite you to call us at 6356 5005 or WhatsApp call/message us at 9366 8855 to set up your completely non-obligatory personalised consultation today.