5 Most Popular Aesthetic Treatments Amongst Women Aged 18-30 Years Old!
December 29, 2021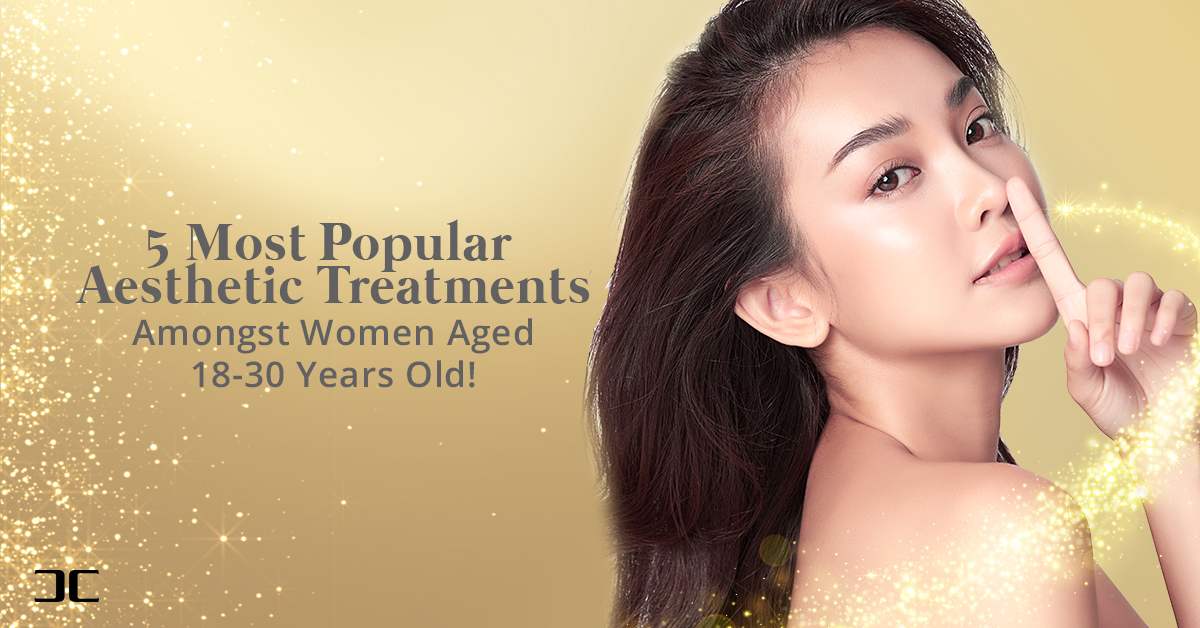 Aesthetic treatments are now very much a part of essential personal grooming and image creation that can be started early to yield positive and lasting benefits. No matter how old or young you are, there is an appropriate treatment to address your concern, to ensure you look your best, and to keep you looking great as if time has stood still.
Today, we highlight 5 of the most popular aesthetic treatments amongst women aged 18-30 years old.
As a practitioner of 30 years in the aesthetic field, our Medical Director Dr. Chin Yee Choong has vast experience, in-depth knowledge, and valuable insights about these proven, minimally-invasive, and minimal downtime requiring aesthetic treatments and their transformative results. So, read on to know more.
1. Nose Shaping
Being the central feature of the face, the nose impacts the overall facial balance and symmetry the most. As the Asian nose generally has a wider (bulbous) nose tip and a shorter and flatter nose bridge, it tends to make the eyes look wider apart and the face appears flat. Hence, it comes as no surprise that nose reshaping has become a highly sought-after procedure. When performed expertly, the redefined nasal bridge, nose tip lift, and evened-out bumps/depressions help create a symmetrical and well-defined nose that is in proportion with your facial features. The surgery-free aesthetic treatment that can reshape your nose is:
a) Threadlifts
Known widely as a "nose job without going under the knife", Threadlift offers subtle but visually appreciable results without the risk of surgical scars and other surgical complications. The treatment improves the height proportions of the nose, providing a natural lift, and giving you a sharper nose. The ability of the nose to amplify beauty as well as defects make it a challenging location for any aesthetic procedure, hence, the skills of an experienced practitioner are vital in achieving the best results and reducing risks. Dr. Chin uses special fine microfilament Polydioxanone (PDO) absorbable threads that not only naturally disappear after a while but also do not spread to the sides or broaden the nose, thereby eliminating the risk of an "Avatar Nose". A truly wow treatment, its results can last up to 1-2 years and takes about 30 minutes to perform.
2. Well-Defined Chin
A well-defined and proportioned chin plays a major part in not only balancing the facial structures around it such as the nose, neck, and cheeks but also in creating a pleasing profile. A good-looking chin is essential in complementing fine facial features, bringing symmetry, and harmony to the overall appearance. For people with "weak" or recessed chin, the two effective chin augmentation treatments that Dr. Chin commonly uses to address it are:
a) Fillers
New generation fillers help you bid goodbye to painful and invasive surgery. Successful injection of the right amount and correct filler-type diligently in key areas & different depths by an experienced injector familiar with the chin area anatomy is critical to achieving a natural look with minimal bruising and side effects. In addition to increasing chin volume and contouring chin shape, fillers also help improve chin definition making the entire face shape more attractive. Treatment results may last for up to a year or longer. With results that are immediately evident, it will surely bring a happy smile to your face and a chin-up in your encounters with the people you meet.
b) Threadlifts
Gone are the days of opting for facelift surgery. Threadlifts result in targeted stimulation of collagen and produce a lift in the skin while minimising the risk of scarring, bruising, and bleeding associated with traditional surgery. Threadlifts achieve the best results when performed by skillful hands and help achieve that perfectly contoured chin.
3. Immaculate Jaw Line
For women, a gentle, defined jawline is the hallmark of youthfulness indicating femininity and refinement. Reducing or sharpening the jawline that helps frame the face can make a significant difference in your overall appearance. Dr. Chin understands the nuances of having an immaculate jawline and uses the following treatments to create the look you want and image you would like to project:
a) Threadlifts
The 100% bio-absorbable Polydioxanone (PDO) fine threads are specially designed to be placed under the skin to tighten the delicate tissues of the lower face. They also help redefine contours, give a visible lift to the skin, and allow a well-defined jawline to emerge. Even though the threads themselves dissolve gradually over 9-18 months after treatment, leaving no trace, their collagen-stimulating benefits continue to impress.
b) Ultherapy/HIFU
An FDA-certified non-invasive face-lifting procedure, this treatment uses high-intensity focused ultrasound energy (HIFU) that goes deeper to different skin depths to stimulate collagen production and elasticity for natural-looking results. It helps regain contour and gain a defined jawline by skin tightening, lifting, and smoothening. Free of downtime, the treatment offers results that last for more than a year.
4. V-Shaped Face
A V-shaped face is a universally desired facial feature that helps project a defined cheek-to-chin line from the front view and also makes the face look slim. It also helps address stress, age, and subtle asymmetry of the face. The two non-invasive contouring aesthetic treatments that offer you confidence-boosting results with their transformative powers are:
a) Botox
Botox has the unmatched ability to not only get rid of wrinkles and frown lines but also the ability to slim and contour the face. When administered expertly and meticulously to prominent jaw muscles (masseters) in strategic locations by Dr. Chin, it gradually transforms the wide lower face into a V-shaped face over the next few months. Taking a mere 15 painless minutes to perform, this well-established and renowned procedure gives you sustained results that last even long after the actual nerve-blocking effects of Botox have subsided.
b) Dermal Fillers
Dr. Chin uses different types of cross-linked & density Hyaluronic Acid (HA) dermal fillers to help you regain youthful facial attributes. Thicker fillers are placed deeper to replenish areas of volume loss, and to revive support of the critical mid-cheek area to help create a lifted and plump look. Softer fillers are placed superficially to help enhance the skin's moisturising capabilities, making it look hydrated, refreshed, and wrinkle-less. Boasting visible results that can be immediately appreciated, the deeper-placed fillers can last for up to 18 months.
5. Eye Rejuvenation
While we all agree with the saying that "the eyes are the windows to your soul", sparkling wide-open eyes are also the mirrors of youthful attractiveness. Stress and age can make our eyes look tired, droopy, and lifeless. To address this, Dr. Chin uses these two eye rejuvenation aesthetic treatments to help you renew the vision of your attractiveness:
a) Rejuran I (Eye)
Specially developed by a Korean company to be used on the delicate skin around the eyes, it helps revitalise the skin by activating cellular regeneration and inducing collagen production with the use of newer and more potent salmon PolyDeoxyRiboNucleotide and DNA extracts. In addition, it aids defense against harmful free radicals that accelerate ageing. Visible reduction of dark eye circles, fine wrinkles, and plumping of sunken eyes occur soon after expert administration. Requiring just 30 minutes to perform, Rejuran I delivers such amazing results that you truly have to see with your own eyes in order to believe the hype.
b) Ulthera Eyelift
Making surgical eyelift seem like so yesterday, Ulthera Eyelift uses high intensity focused ultrasound in the form of targeted energy to cause micro-injuries to varying depths of the skin encouraging new collagen formation as part of the healing process. Along with tackling collagen degradation that starts past the age of 25, this non-surgical treatment also reduces the visible signs of ageing, droopy eyelids, and skin laxity that make you appear worn-out and gloomy. With treatment, the skin around the eyes is tightened and eyes are energetically lifted. Performed within 30 minutes during your lunch break, its lifting effects last up to 12 to 18 months.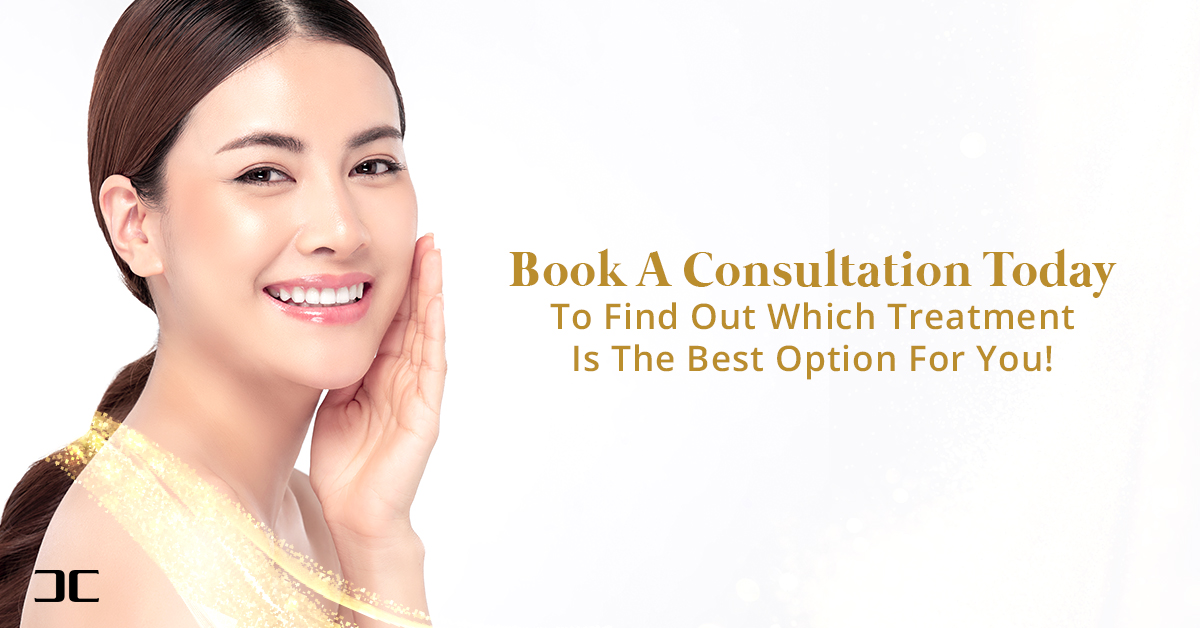 As one of the leaders in the aesthetic field in Singapore with 30 years of experience, Dr. Chin can help you regain confidence and achieve your desired look. Through in-depth consultation to understand your needs, Dr. Chin will evaluate your concerns and suggest the best-suited treatments for you. So call us today at 6356 5005 or WhatsApp us at 9366 8855 to book a non-obligatory personalised consultation.