5 In-Demand Aesthetic Treatments Amongst Women Aged 31-40 Years Old!
March 8, 2022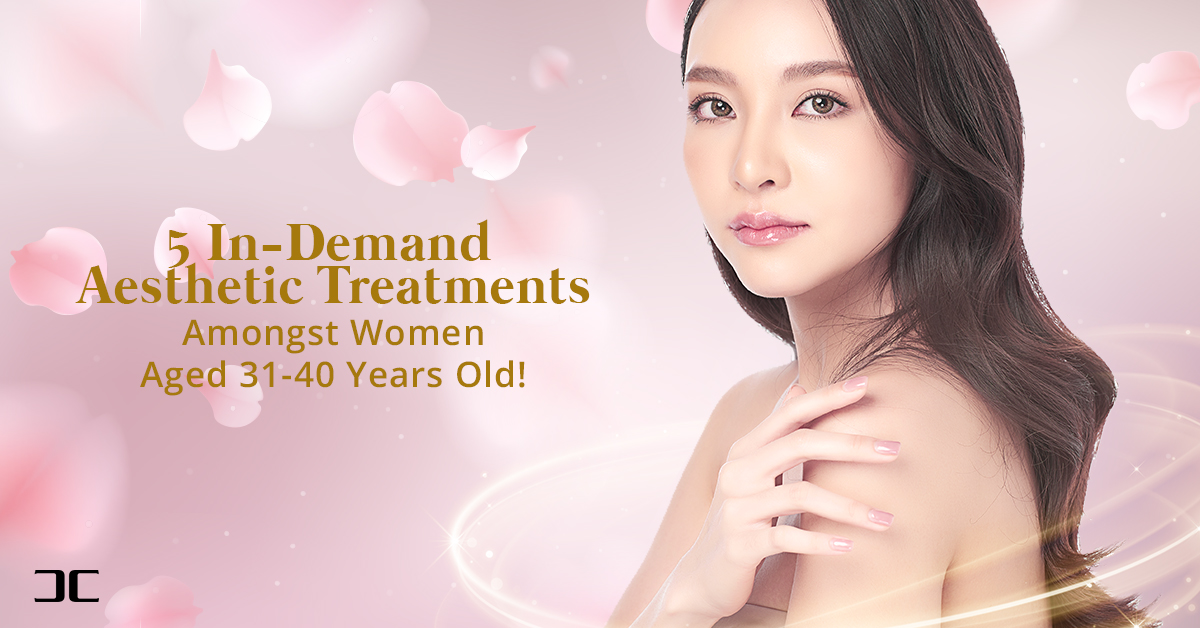 The 30s is a curious decade of life – a decade of potential emotional contradictions. On one hand, for many, turning 30 marks an uptick in self-confidence from a budding career, financial stability, and an established circle of friends that allows you to enjoy and live life your way! On the other hand, for some, this is also the time when the dreadful first signs of ageing begin to show, causing a downtick in self-confidence from the realisation that your youth is drifting away. Undesired changes in the lower eye area, upper, mid-face, and mouth/lip area rob you of your quiet hard-earned confidence. However, despair not, for there is good news yet as medical advancement has produced non-invasive and minimal downtime treatments that can help address these concerns. When used appropriately, they effortlessly ensure that when you are in your prime 30s, you are on the very top of the world, in all departments including your looks!
Today, we feature 5 in-demand aesthetic treatments amongst women in their 30s! Our Medical Director Dr. Chin Yee Choong, a veteran in the aesthetic medical field for over 30 years, brings to this article valuable insights that will help you better understand the various treatment options available to defend your precious looks against the march of time. So, read on to find out more.
1. Even, Smooth & Lifted Under-Eye Area (Tear Trough)
As you hit your 30s, the under-eye region is one of the first areas to reveal the ravages of time and ill effects of those demanding work sessions, stress, and unhealthy habits of the past. This is so because the eye area has thin and delicate skin that is prone to ageing. The emergence of dark eye circles and sunkenness make you appear tired, hassled, and defeated. Your appearance does not reflect your inner confidence, and careless occasional comments by friends, colleagues, and family only make the issue worse. The aesthetic treatments that Dr. Chin has found safe and effective in addressing this difficult-to-treat area to help your eyes reclaim their sparkle are:
a) Fillers
Replacement filler therapy is able to instantly revitalise the under-eye area. Judicious application of the right amount of the appropriate filler-type helps smooth the under-eye hollowing, brighten the area, reduce sunken shadows, and restore volume for a fresh, youthful, healthy look that projects vitality of your gaze. In addition, fillers also help reduce the dreaded "Panda eyes". The multiple benefits of treatment are immediately noticeable and results can last for up to two years. A word of caution though, the under-eye area is a tricky area to get filler treatment done right, so it is vital to choose a doctor with plenty of experience who can minimise the risk of bruising, swelling, and vascular complications.
b) Scaffold Threads
When performing this high skill-dependent Threadlift procedure, Dr. Chin uses specially designed fine multiple scaffold Polydioxanone (PDO) absorbable threads to strengthen the supportive layers of the undereye skin. This tightens loose skin and reduces the appearance of bulgy eye-bags while stimulating new collagen for extended visible benefits of up to 18 months. As the threads get dissolved completely with time, they leave behind no trace, only bag-less and rejuvenated youthful-looking eyes.
2. Upper Face Rejuvenation
A radiant, smooth, and soft upper face illuminates your entire being. But with the gradual loss of youthful skin elasticity coupled with overactivity of the muscles of facial expression, this once alluring and expressive area gradually evolves to unflattering worry lines and crow's feet. To help address these concerns, Dr. Chin successfully employs these two non-invasive aesthetic treatments that give high patient satisfaction outcomes:
a) Botox
Medical-grade Botox has the ability to erase wrinkles, worry lines, frown lines and smoothen the overall appearance of the forehead when placed correctly and meticulously at the strategic locations by adept hands. It selectively weakens the muscles that cause such unflattering facial expressions to appear, allowing you to have a relaxed, stress-free glowing forehead reminiscent of your carefree younger years. Dr. Chin uses fine injection needles for the procedure to ensure the treatment is near painless with hardly any bruising. Taking a mere 15 minutes to perform, Botox's relaxing effects are often apparent 1 week after treatment. Repeated treatments continue to be highly effective and may give you longer-lasting results even after their actual nerve-blocking effects have subsided as the treated muscles get less powerful with time.
b) Fillers
Fillers help achieve a well-rounded and fuller volumised appearance by filling in static wrinkles while also providing a plumper appearance and stimulating natural collagen production. The latest formulations of cross-linked Hyaluronic Acid (HA) can help replenish areas of volume loss and enhance the skin's moisturising capabilities to make your surface skin look hydrated, refreshed, and wrinkle-less. What's more, their effects make a noticeable difference and are immediately appreciated by you and the people around you.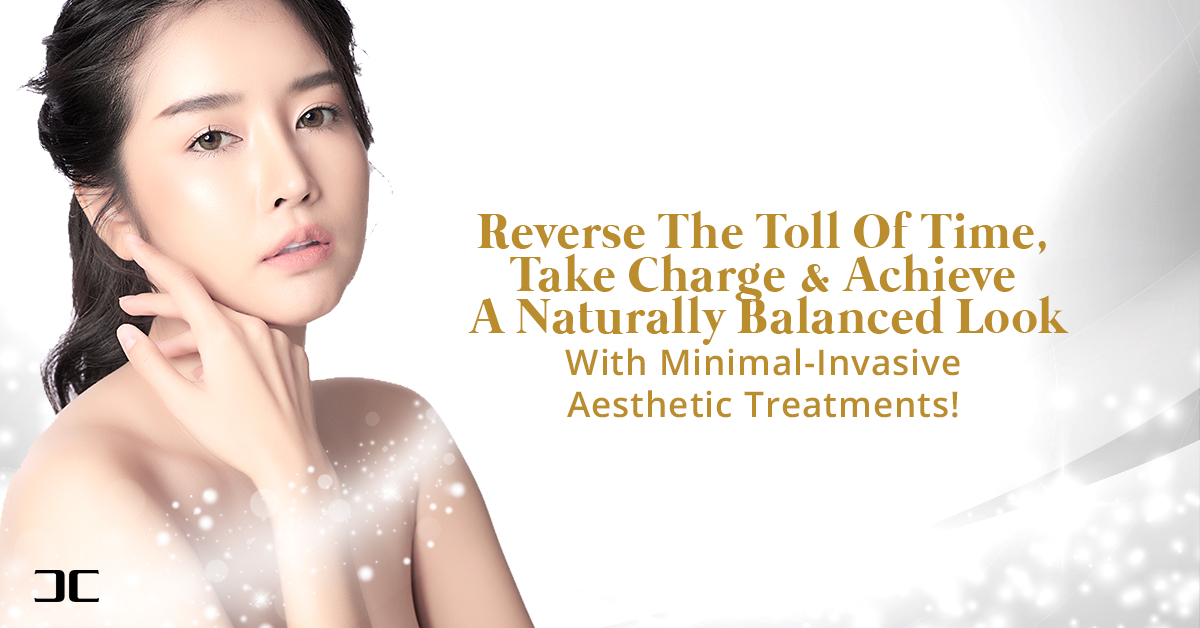 3. Smooth Mid-Face Area (Nasolabial Folds)
Nasolabial folds or laugh lines are no laughing matter when they reveal your less than youthful age despite your energy and vibrant personality. So, if you're eager to lessen these deeper facial grooves that reflect advancing age, here are the aesthetic treatment that Dr. Chin uses to successfully reduce them and uplift your spirit:
a) Fillers
Thanks to new generation fillers, you no longer have to opt for painful traditional surgery to reduce your nasolabial folds. When placed at key areas by an injector who has an in-depth know-how of facial balance and harmony, these new generation fillers help replace the loss of bony support, give sagging cheeks a lift, and to plump up the skin. With minimal downtime and immediately visible benefits, fillers deliver the kind of results that bring an irresistible smile to your face.
b) Ultherapy
Certified by the FDA as a non-invasive face-lifting procedure, this treatment uses high-intensity focused ultrasound energy (HIFU), and goes to varying skin depths to stimulate the production of the body's collagen and elastin for natural-looking results. Ultherapy helps lift and tighten the skin around the jowl lines, mid-cheeks, and neck, helping to reduce the deep wrinkles and fine lines. With minimal downtime, the treatment offers natural-looking, progressive lasting results of more than a year.
4. Volumised Cheek Area (Malar Volume Loss)
Rosy firm cheeks make for a breezy appearance as they help elevate the midface which embodies facial health. But, as skin ageing starts to accelerate in the 30s, the lost volume and contour become distressingly noticeable. To help counter this age-related hollowing and allow you to regain lifted well-defined cheekbones, fuller cheeks, and supple youthfulness, Dr. Chin combines the reframing power of these contouring aesthetic treatments:
a) Dermal Fillers
In a class of their own, Dermal Filler is a non-surgical procedure that helps create a lifted and plump look. Here at DermClear, Dr. Chin is able to help you replenish areas of volume loss and revive the support of the critical mid-cheek area by using a combination of different filler types. And if needed, the concomitant use of softer fillers to enhance the skin's moisturising capabilities and make your surface skin look hydrated, radiant, and refreshed. Proven in many scientific publications, the clinical results of deeper-placed fillers may last for extended periods of up to 18 months.
b) Threadlifts
Using high-quality surgical sutures, Threadlifts help lift and re-position descended fat pads in the cheeks to achieve an immediately visible "lift" and also tighten the skin. As being one of the few Aesthetic Practitioners in Singapore who have performed numerous Threadlifts over the past 16 years, Dr. Chin is proficient in this highly skill-dependent procedure. Made with 100% bio-absorbable fine microfilament Polydioxanone (PDO)/Polycaprolactone (PCL), the threads get dissolved completely and leave no undesirable trace behind except for "apple-shaped" fuller cheeks. Its uplifting results can last for up to 18 months.
5. Lifted, Well-Sculpted Nose
The structures and skin of your nose lose strength with time, and, as a result, the nose starts flattening out and sagging downward. And being the centerpiece of your face, it affects the visual impact of your appearance significantly. Moreover, as the Asian nose generally has a wider (bulbous) nose tip and a shorter and flatter nose bridge, these inherent structural features tend to make the eyes look wide apart and the face broad which some may find less than ideal. Also, the nose's ability to magnify beauty as well as defects makes it a challenging location for any procedure to be done. This is where the skills of an experienced practitioner come into play to achieve the best desired outcomes. To reshape this critical facial anatomy, Dr. Chin has found the following aesthetic treatments beneficial to patients who may benefit from subtle but visually enhancing nose recontouring:
a) Threadlifts
A safer and minimally-invasive alternative, Threadlifts also known as a "nose job without going under the knife" offers visible results without the risks and complications associated with traditional intrusive surgery. The treatment helps effectively improve the height proportions of the nose, provides a visible natural lift, and gives you a "sharper" nose post-treatment. Dr. Chin employs high-quality special threads made with 100% bioabsorbable fine microfilament Polydioxanone (PDO), that not only disappear after a while but also do not spread to the sides or broaden the nose further eliminating the risk of "Avatar Nose". Taking merely 30 minutes to perform, its striking results may last up to 1-2 years.
Encompassing 30 years of par excellence in the aesthetic field in Singapore, Dr. Chin understands the science, benefits, techniques, and nuances behind these specialised treatments. A combination of qualifications, skills, experience, and meticulousness all come together in Dr. Chin to be able to deliver your desired outcomes with minimal complications. Through a personalised consultation, Dr. Chin will evaluate your concerns, suggest the best-suited treatment options for you, and guide you safely in your aesthetic journey. So, call us at 6356 5005 or WhatsApp us at 9366 8855 to book your non-obligatory consultation today.