5 Most-Performed Aesthetic Treatments On Women Aged 41-55 Years Old!
June 14, 2022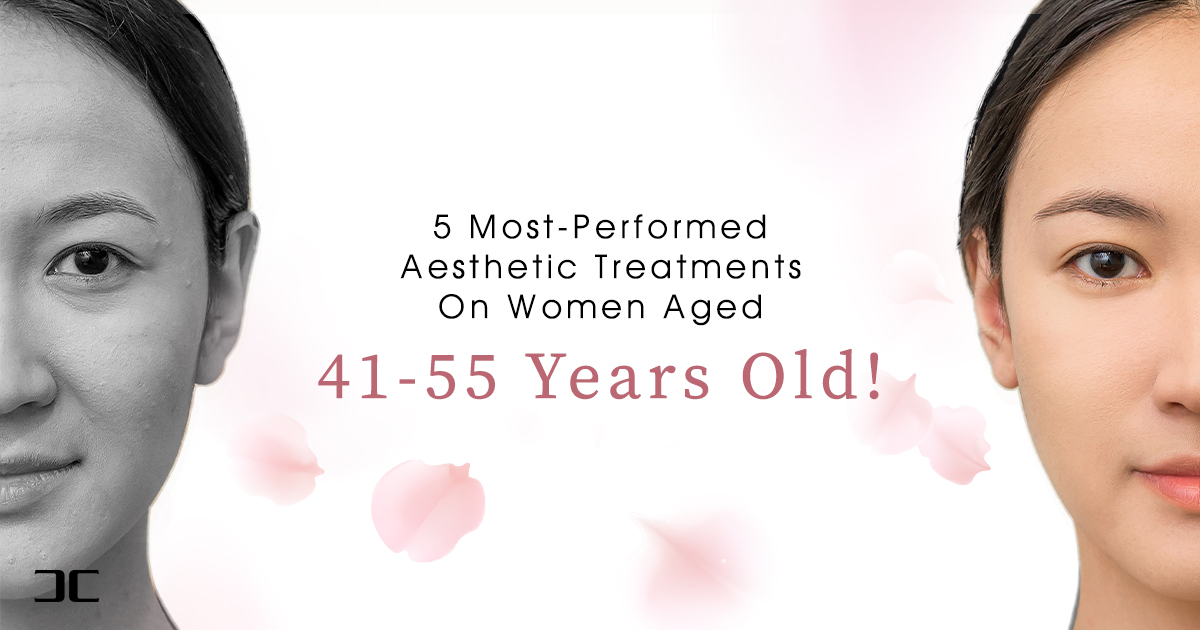 Ageing gracefully is easier said than done. And this holds true for when you hit your 40s, as the signs of ageing that first started to show up in your 30s, like fine lines, crow's feet, smile lines, and volume loss all become more pronounced. Your past skin-care regimen that showed results, now might suddenly not be enough to keep these predominant signs at bay. This coupled with pre-menopause which causes the skin to become thin and lose its elasticity, makes turning 40 seem daunting to many. The truth, however, is that specialised aesthetic treatments have the transformative prowess to not only make your 40s a graceful reality but also make you feel more confident and attractive than ever.
Today, we are highlighting 5 such most-performed non-invasive aesthetic treatments on women aged 41-55 years old that make the biggest difference.
As one of the leaders in the aesthetic field in Singapore with 30 years of vast experience, our Medical Director, Dr. Chin Yee Choong shares his valuable insights and in-depth know-how on the various treatment options that target various skin concerns and deliver the best-in-class results.
1. Tear Trough (Under-Eye Area)
Your eyes which were once full of sparkle and depth in your earlier years tend to lose their charm as the years go on. This is because the under-eye region has thin skin, making the fine lines, wrinkles, dark lines, and sunkenness even more noticeable which can project a tired hassled, and defeated appearance. The two minimally-invasive aesthetic treatments that Dr. Chin uses to address this tricky-to-treat area are:
a) Fillers
Replacement Fillers are a multi-problem targeting procedure that helps instantly revitalise the under-eye area. It helps reduce sunken shadows and restore volume for a fresh, youthful, healthy look to bring balance to the face. Its amazing effects can last for up to 2 years and the competent application of the correct amount of suitable filler type also helps reduce the possibility of the dreaded "Panda Eyes". And, since the eye area is a delicate and focal component of the face, it is important to choose an injector who is familiar with its anatomy and is confident in its skills to minimise the risk of bruising, swelling, and vascular complications.
b) Scaffold Threads
Using specially designed absorbable threads, Dr. Chin is able to diminish the appearance of lower eye bags and tighten the loose skin by strengthening the supportive layers of the undereye skin. Besides getting completely dissolved with time and leaving no trace behind except for rejuvenated youthful-looking eyes, the threads also reduce protruding eye bag-fat, increase collagen and deliver eye-opening benefits for up to 18 months.
2. Malar Volume Loss (Cheek Area)
As you approach your 40s, your once rosy firm cheeks start to appear saggy which in turn impacts the whole facial symmetry. To help counter this instantly noticeable hollowing and help you regain lifted well-defined cheekbones and hearty, fuller cheeks reminiscent of your youthful days, Dr. Chin employs these two contouring aesthetic treatments:
a) Dermal Fillers
A well-known and reputed non-surgical procedure, Dermal Fillers are placed deeper to replenish areas of volume loss and to revive support of the critical mid-cheek area to help create a lifted and plump look. By using a combination of different filler types and softer fillers if needed, Dr. Chin is also able to enhance the skin's moisturising capabilities and make your surface skin look hydrated, radiant, and refreshed. As per numerous scientific studies, the Fillers' effects can last for up to 18 months.
b) Threadlift
A specially skill-dependant treatment, Threadlift helps raise and re-position the sunken fat pads in the cheek area to provide a visibly distinct lift and also tighten the skin. As one of the few aesthetic practitioners in Singapore who has performed numerous Threadlifts over the past 16 years, Dr. Chin has helped many achieve their desired results and restore youthfulness. With results that last for up to 18 months, the 100% bio-absorbable threads, get dissolved completely leaving no trace behind except hearty, fuller cheeks.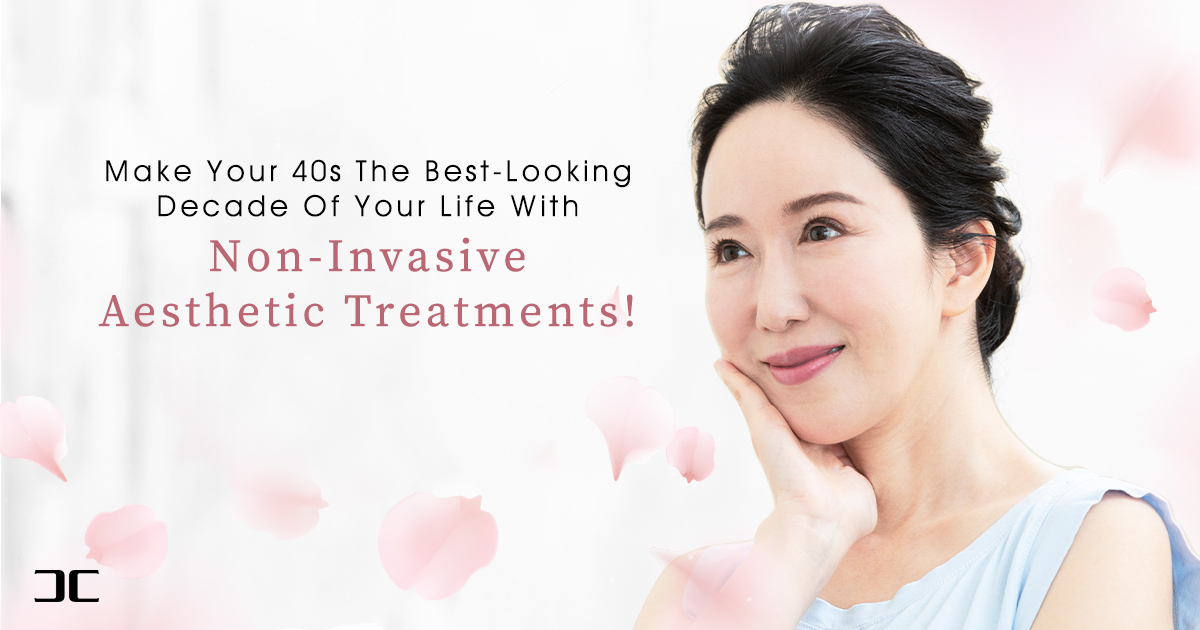 3. Nasolabial Folds (Mid-Face Area)
Nothing gives away your age instantly and makes you look and feel much older than you really are quite like the unflattering deep lines that run from the nose to the corners of the mouth. These lines are known as nasolabial folds or laugh lines. As the emotionally-charged years go by and the gradual loss of youthful elasticity becomes evident, this repetitive creasing gets left behind. So, if you want to smooth these pronounced facial creases, these are the two aesthetic treatments that Dr. Chin uses to successfully reduce them and give you a smile-worthy outcome:
a) Fillers
Gone are the days of enduring painful traditional surgery just to regain your beautiful smile. New generation Fillers when placed in key areas by an experienced injector having detailed know-how of the facial balance and harmony help replace the loss of bony support, giving the cheeks a lift, and plumping up the skin. Providing immediately noticeable results and requiring minimal downtime, its effects can last for up to 18 months.
b) Ultherapy
This FDA-certified non-invasive face-lifting procedure helps lift and tighten the skin around the mid-cheeks, helping to reduce the deep wrinkles and fine lines. Using high-intensity focused ultrasound energy (HIFU) it goes to different skin depths stimulating the production of the body's collagen and elastin formation for natural-looking results. Requiring minimal downtime, Ultherapy offers natural-looking, progressive lasting results of more than a year.
4. Jowls (Jaw & Chin Area)
The jaw and the chin area play a major part in defining the overall facial balance and creating symmetry between the nose, neck, and cheeks to project an overall pleasing profile. While a well-defined chin is vital in complementing fine facial features, for women, a gentle, immaculate jawline is a symbol of youthfulness indicating femininity and refinement. The two surgery-free aesthetic treatments that Dr. Chin uses to create the look you want are:
a) Fillers
Dr. Chin uses next-generation Fillers that bring advanced technology to the world of non-invasive aesthetic treatments making intrusive painful traditional chin and jaw surgery seem like so yesterday. Injecting the right amount and correct filler type carefully in various depths helps increase chin volume, contour chin shape, and improve chin definition. An experienced injector familiar with the chin and jaw area anatomy helps achieve natural results that may last for up to a year or longer with minimal bruising and side effects.
b) Microbotox Dermalift
Microbotox Dermalift helps provide a natural face lifting and smoothing effect by reducing and contouring the size of the jawline. It also helps lift and tighten the skin and subside the appearance of lax skin, allowing for an overall more rejuvenated look. Another unique feature that makes this treatment so popular is that, unlike normal Botox injections that are administered in the muscle layers, Mircobotox is injected into the skin surface at a superficial level giving you results that do not affect the facial expressions. These multiple beneficiary effects may last for up to 6 months.
5. Droopy Upper Eyelids (Upper-Eye Area)
All those late nights and early mornings, stress, and unhealthy habits in your yesteryears tend to manifest themselves as droopy-looking eyes in your 40s that make you appear worn-out and despondent. To address this Dr. Chin uses two eye rejuvenating aesthetic treatments that'll help you see the world in a different light.
a) Threadlift
The versatile Threadlift is also formulated to be used on the delicate skin around the eyes. It helps diminish the appearance of droopy upper eyelids and tighten the loose skin by strengthening the supportive layers of the skin, reducing protruding eye bag-fat, and increasing collagen. Dr. Chin uses 100% bio-absorbable threads that dissolve completely with time leaving no trace behind except for rejuvenated and youthful-looking eyes. These impressive effects may last for extended periods of up to 18 months.
b) Ulthera Eyelift
Ulthera Eyelift employs precision stimulation of collagen formation deep within the skin using high intensity focused ultrasound (HIFU). As a result, the skin around the eyes is tightened and drooping eyelids are energetically lifted. Performed within 30 minutes, its impressive effects last up to 12 to 18 months. So, skip lunch and give your windows to the soul a refurbishment.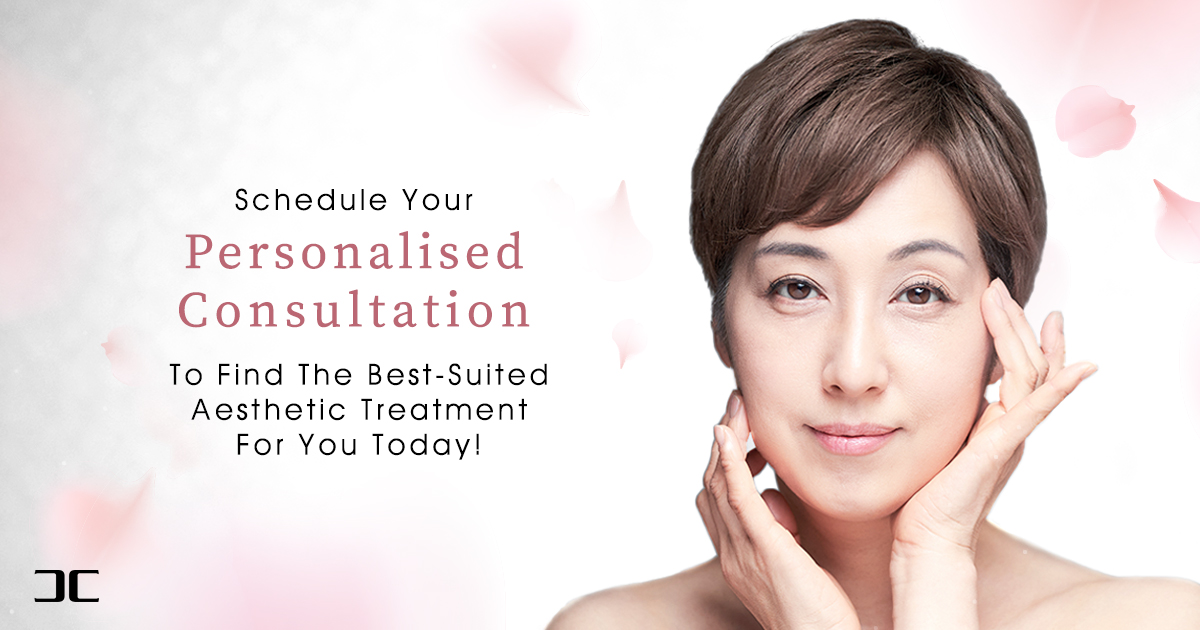 With more than 30 years of experience and as one of the foremost practitioners in the aesthetic field, DermClear's Medical Director Dr. Chin Yee Choong has helped many turn back the hands of time and restore youthfulness with highly effective, minimal downtime, and non-invasive procedures. Through in-depth consultation, Dr. Chin will understand your concerns and expectations and offer the best-suited treatments. So, call us at 6356 5005 or WhatsApp us at 9366 8855 to book your non-obligatory consultation today.